Awarded 'Restaurant of the Year' at the 2019 West Australian Good Food Guide Awards
Awarded 'Restaurant of the Year' at the 2022 (AHA) annual Accommodation Awards for Excellence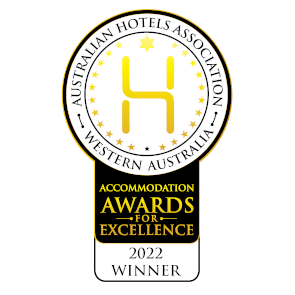 Santini Bar & Grill
Inspired by the sun and always embracing the seasons, Santini Bar & Grill in Perth celebrates classic Italian dining, pairing it back with everything that is loved about WA.
Santini Grill's open plan kitchen shows off the smoky wood fire coals and hanging handmade pasta, while bold terracotta and turquoise hues of the dining room transport guests to the Mediterranean. The menu, curated by Creative Culinary Lead Nic Wood, focuses on fresh seasonal produce, thoughtfully sourced and simply cooked. Local aged Parmesan, custom made burrata and freshly-picked San Marzano tomatoes make the bold menu cunning in its simplicity, letting the locally foraged produce take centre stage.
Nestled next to Santini Grill, Santini Bar serves delicious small plates throughout the evening. The perfect spot for pre-theatre cocktails and dinner, late night-supper or a pre-dinner appetizer. Moody and splashed with intrigue, Santini is an intimate hideout in downtown Perth. We've fashioned a collection of creative takes on classic cocktails to seal the deal.
After being crowned Best New Restaurant by the 2018 WA Good Food Guide shortly after QT Perth opened in August 2018, Santini Bar & Grill has gone from strength to strength, securing the title of Restaurant of the Year at the 2019 WA Good Food Guide Awards and Restaurant of the Year at the 2022 Australian Hotels Association's (AHA) annual Accommodation Awards for Excellence. Well and truly cementing itself as a major player in the Perth food scene.